'The Bleeding Edge'
Go Inside the Medical Device Industry and See How the Speed of Innovation Can Come at the Cost of Patients' Health
'The Bleeding Edge' is now available on Netflix.
February 14, 2019
Cyclists Suffer More Head Injuries Than Football Players
According to an article from the American Association of Neurological Surgeons, sports and recreational activities contribute to about 21 percent of all traumatic brain injuries among American children and adolescents.
Every year, more than 500,000 people visit emergency rooms in the U.S. with bicycle-related injuries.  In 2009, nearly 85,000 of those were head injuries.
The top five sports / recreational activities that contribute to the highest number of estimated head injuries treated in U.S. hospital emergency rooms are:
Cycling: >85,000
Football: >46,000
Baseball: >38,000
Basketball: >34,000
Water Sports: >28,000
Click here to learn more!
January 31, 2019
Richard C. Angino – Best Lawyers in America
The Angino Law Firm is pleased to announce that Richard C. Angino has been recognized in Best Lawyers in America for 2019.
Mr. Angino has been chosen by his peers in this publication for 36 years since its inception in 1983.
Congratulations Mr. A.!
Click the below link for more information about Best Lawyers in America.
https://www.bestlawyers.com/America
January 15, 2019
Richard C. Angino – Pennsylvania Super Lawyer
The Angino Law Firm is pleased to announce that Richard C. Angino has been named a Pennsylvania Super Lawyer for 2019.
Each year, Super Lawyers recognizes the top lawyers in Pennsylvania via a patented multiphase selection process involving peer nomination, independent research and peer evaluation.
Mr. Angino holds the honor of being selected as a Pennsylvania Super Lawyer since its inception.
Congratulations Mr. A.!
Click here to learn more about Pennsylvania Super Lawyers.
January 11, 2019
Billboards and Basic 1-800 Numbers are NOT Good Reasons When Choosing an Attorney
FindLaw has put together a "Top Ten" list for people to consider when hiring a lawyer.
1. The Law is Complicated
If you're not a lawyer you probably have no business acting like one in certain instances. Even experienced lawyers typically do not represent themselves in court. Also, attorneys tend to specialize in one or more legal practice areas, such as criminal defense or tax law.
A solid case can quickly unravel without the help of a trained and emotionally detached attorney. Similarly, failing to hire a lawyer when starting a business, reviewing a contract, or embarking on other endeavors with potential legal ramifications can result in otherwise avoidable pitfalls.
2. Not Having a Lawyer May Cost You More
What's at stake? A criminal case may determine whether or not you spend time behind bars, while a civil case could hurt you financially. Besides, there are many civil attorneys who don't actually collect a dime from you unless they win your case. Also, you may be able to claim legal fees as a plaintiff in a civil case, so hiring a lawyer can actually save or make you money.
3. Lawyers Know How to Challenge Evidence
Without the proper legal training, you may not be able to know whether a key piece of evidence against you was improperly obtained or that the testimony of a witness contradicts an earlier statement. And did the crime lab properly handle the evidence every step of the way? Your attorney will find out and possibly have that evidence suppressed.
4. Filing the Wrong Document or Following the Wrong Procedure Could Ruin Your Case
If you're not an attorney, you may struggle with the deadlines and protocol for properly filling out and filing certain legal documents. One late or incorrect filing could derail your case, delay a given legal procedure or worse – have the case thrown out altogether (and not in your favor).
5. They Have Access to the Witnesses and Experts You'll Need on Your Side
Attorneys depend on an extended network of professionals to help their clients ' cases. Most non-attorneys don't personally know the types of professionals who can help with discovery or challenge evidence or testimony by the opposing party.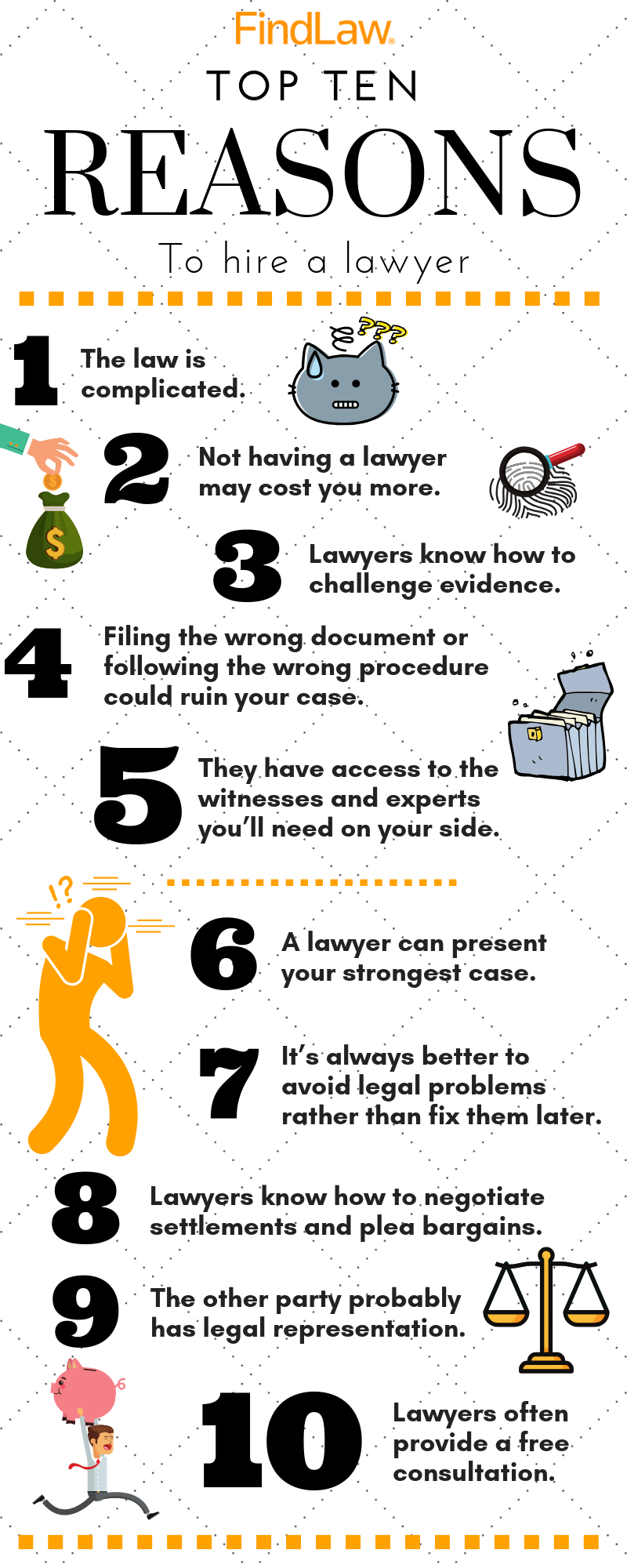 6. A Lawyer Can Present Your Strongest Case
Pleading guilty or admitting fault isn't the only choice, even if there's evidence pointing directly at you. When you hire a lawyer, they can explain all of your options and can help you avoid potentially severe penalties even before a trial begins.
7. It's Always Better to Avoid Problems Rather Than Fix Them Later
You may have heard the saying that "an ounce of prevention is worth a pound of cure." Well, hiring a lawyer in many instances will help you avoid potential legal headaches down the road. Do you really understand the fine print of that contract you are signing and what it will mean for you down the road? A lawyer will.
8. Lawyers Know How to Negotiate Settlements and Plea Bargains
An experienced lawyer probably has seen cases similar to yours or at least knows enough to make a calculated guess about how it might get resolved at trial. Sometimes a settlement is the best choice, while other times it makes more sense to see your case through to trial. An attorney can also help negotiate a fair settlement with the opposing party.
9. The Other Party Probably Has Legal Representation
Non-attorneys are generally at a disadvantage when squaring off against opposing counsel or doing business with another party that has legal counsel. As explained above, the law is complicated and an attorney representing your adversary (or even a non-adversarial party entering into a legal agreement with you) will take advantage of this inequity.
10. Lawyers Often Provide a Free Consultation
Since many attorneys will meet with you for free during a face-to-face consultation, there is really no harm in talking with one. Not only will a free consultation give you an idea of the type of case you have and its likely outcome, it will help you decide whether you actually need to hire a lawyer.
January 3, 2019
Chronicles of Leadership
This article originally appeared in Michael Barton's book Harrisburg: Life by the Moving Road.
By the time Richard Angino was 13, he was setting pins in a Duquesne bowling alley from 6:30 p.m. until closing time, as well as all day on weekends, jumping lanes and earning 8 centers a line (game), $5 a night and $15 a weekend.  Today, as an attorney he knows that modern child labor laws would never allow a youngster of 13 to exhibit the scrappy work ethic he developed at so young an age.  As senior attorney and owner of Angino & Rovner, a successful civil litigation firm in Harrisburg, Pennsylvania, and as a horticulturalist and philanthropist, he looks back at an unconventional life that offered him so many character-building opportunities.
Growing up poor in Duquesne, outside of Pittsburgh, Richard lost his father when he was three and was raised by his mother and siblings.  In 1952 at the end of the Korean War, an older brother in the American Red Cross brought the family to Japan for a year.  Richard, who was 12 then, was educated in a one-room school house.  Back in the States, his freshman and sophomore years were spent studying for the priesthood at St. Gregory's Seminary in Cincinnati, Ohio.
In his junior year and for four consecutive years, Richard spent his summer working 14 hour days, seven days a week, as the "Voice" of Kenneywood, an amusement park in Pittsburgh.  "I made all the public service announcements for the park," Angino recalls with fondness, "lost children, special events, playing music, closing time.  It was a prestigious position because everyone heard my voice."
A good athlete who did well in school, Richard nonetheless had little knowledge of the world of professional careers.  He went to college with the vague idea of becoming a teacher when a fortuitous conversation changed his life.  "I was approached my senior year by someone who talked to me about the law as a continuation of my education that could lead to many opportunities," he recalls.  "You could go into the political arena, the public sector or into private practice."  Richard began to see how a law degree could be the foundation for a multitude of careers, including running businesses and corporations.  "It made sense to me and, since I wasn't ready to make a career commitment at that time, I decided to go to law school."
Richard graduated seventh in his class Law Review from Villanova Law School in Philadelphia in 1965 and immediately went to work for Hurwitz, Klein, Meyers and Benjamin in Harrisburg where his career kicked into gear quickly.  A general practice law firm, the founder, Solomon Hurwitz, died shortly after Richard came on board leaving a void on the business side that none of the other lawyers seemed willing or able to fill.  "I was young enough to be able to take on the decision-making abilities and to bring in the money," says Angino.  "Within three years I was running the place."
"Running the place" meant eventually narrowing the firm's focus from a broad range of general practice activities to a highly focused civil litigation practice.  "Because I was doing most of the work I quickly concentrated on civil litigation and focused the firm that way."
In doing so, Richard was responding in some way to his background.  Growing up poor in a steel town he had always felt a sense of exclusion.  Civil litigation allowed him to act on behalf of people who didn't have the means of defending themselves against the big guy.  "We litigate on behalf of innocent victims," he says, "People who are injured because of the negligence of others.  The defendant could be a doctor or General Motors; the plaintiff an elderly person who takes her CDs to a financial advisor who puts her money into a risky investment and loses it.  The people we represent are the victims of someone else's actions."
When Pennsylvania passed a no-fault auto insurance law in 1974, Richard argued that the families of deceased victims should be able to collect for their lost earnings the same as living injured victims.  "I took that interpretation all the way to the Pennsylvania Supreme Court and obtained a favorable decision."  He was then able to bring class action suits against insurance companies and recover millions on behalf of thousands of victims.  During his 1982 term as president of the Pennsylvania Trial Lawyers Richard negotiated the 1984 Automobile Law.  The firm grew quickly and Angino & Rovner became a recognized name throughout Pennsylvania and eventually four of the firm's eight attorneys were recognized among the 53 best plaintiffs' lawyers in Pennsylvania.
Richard's wife, Alice, who came to work for him as a secretary in 1968, is Richard's partner not only in running the firm where Alice as legal administrator, but also in their shared passions for gardening and philanthropy that have grown into major endeavors.
In 1971 the couple bought a 52-acre abandoned farm and began the process of transforming it into extensive gardens.  "If you can picture an attorney and his wife being happy putting all their money into gardening and philanthropy, that's what we've done," says Richard, who moved through the chairs of the American Horticultural Society, rising to the position of vice president.  Together, Richard and Alice traveled throughout France, Italy, England, Holland, and Germany, studying the grand European gardens for inspiration.  "We've tried over the years to create something that approaches these great gardens."
Today, the gardens have expanded to include Felicita Resort, a spa and golf get-away in Central Pennsylvania.
From the '70's to the present, the Anginos have contributed to and/or landscaped many Central Pennsylvania capital charitable projects in county parks (Fort Hunter, Wildwood, Wiconisco) and non-profits (Cerebral Palsy, YWCA, Colonial Park Library, Gaudenzia, United Way, Good Shepherd School, Association of Retarded Citizens Camp Sertoma, etc.)
The Anginos also combined their gardens and philanthropy by hosting and underwriting themed fundraisers held in the gardens for numerous charities including The Frederick Michael Angino Pediatric Leukemia Fund at Hershey Medical Center, The Greater Harrisburg Foundation, Open Stage of Harrisburg, United Way, Pennsylvania Breast Cancer Coalition, etc.
Richard and Alice have been long time strong supporters, both financially and through board service, of many non-profits in their community, including Tocqueville Society of the United Way, Allied Arts, Harrisburg Symphony Society, Leukemia and Lymphoma Society, Wildwood Lake Nature Center, Boys and Girls Club, St. Francis of Assisi Children's Summer Program, etc.
December 20, 2018
'Bleed Out' Shows How Medical Errors Can Have Life-Changing Consequences
Please click the video link to see the trailer called "Bleed Out" about a woman who went in for hip replacement and came out in a coma due to blood loss and the efforts her son made to find out the true facts as to how and why it happened. The documentary is on HBO and the show is set to air December 17, 2018.
December 17, 2018
What does bad faith mean in the insurance context? There is really no standard definition of bad faith, but most states define it as unreasonable or unfair conduct by an insurance company. There are a number of actions by an insurer that are...